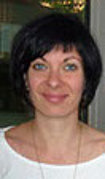 Elisabeth Baldauf
Der Erste Weltkrieg an der Ostfront in der ukrainischen und russischen Literatur
Elisabeth Baldauf studierte Slawistik (Russisch) und Germanistik in Graz, Volgograd und St. Petersburg. Kürzere Studienaufenthalte führten sie nach Moskau, Lviv und Greifswald. Ihre Diplomarbeit "Rodina. Heimat auf Russisch" setzt sich mit dem diachronen Ge- und Missbrauch des russischen Heimatbegriffs durch verschiedene Propaganden auseinander. Von 2006-2008 lehrte sie im Rahmen Österreichkooperation an der Juryj-Fedkovych-Universität Czernowitz und war an der Durchführung zahlreicher Kulturprojekte mit dem Bukowinazentrum und der Österreichbibliothek beteiligt. Seit 2008 ist sie AHS-Lehrerin für Russisch, Deutsch und DaF.
Ihr Dissertationsprojekt beschäftigt sich mit der literarischen Darstellung der Ostfront (der Mittelmächte) des Ersten Weltkriegs. Unter der Annahme, dass in dem multikulturellen Raum Ostgaliziens und der Nordbukowina die nationalen und gesellschaftlichen Gruppen und kriegsführenden Parteien den Krieg mit unterschiedlichen Hoffnungen bzw. Befürchtungen verbanden, vergleicht die Arbeit divergierende und parallele Narrative zu den Geschehnissen in diesem Raum von 1914-1918 sowie ihr textuelles Echo.
Betreuer | Alois Woldan

Oleksii Chebotarov
Transmigration of Russian Jews in Galicia in the Late Imperial Period
Oleksii Chebotarov received his Master degree in History from the Ukrainian Catholic University (Lviv) and Bachelor's degree from the Vasyl Karazin National University of Kharkiv. Currently, he is a PhD student and Research assistant at the School of Humanities and Social Sciences at the University of St. Gallen (Switzerland). He works as a researcher at the Center for Urban History in East Central Europe (Lviv). In addition, he is the co-founder and project coordinator of the Center for Interethnic Relations Research in Eastern Europe (Kharkiv).
In his PhD research, Oleksii focuses on the migration of Russian Jews to Galicia from legal, social, economic, cultural and political perspectives. Transmigration, its impact on Galicia, has a great explanatory potential for understanding the past of this region.The proposed trans-border approach will offer new insights into Galicia as a space of the intersecting histories of the Russian and Austro-Hungarian Empire.

Frank Rochow
Architecture and Rule. Conceptions of Empire and Military Presence in the Boarder Provinces, 1849-1859
Frank Rochow obtained his bachelor's degree in political science and history. He continued his education in the field of European cultural history at the European University Viadrina in Frankfurt (Oder), where he wrote a master's thesis about the urban space of Lemberg during the neo-absolutist era. During his studies he also participated in study-abroad programs at universities in Denmark, Slovakia, and Georgia.
In his doctoral thesis he is elaborating on the topic of his master thesis and widening its geographical scope by comparing the former Habsburg provinces of Lombardo-Venetia and Galicia-Lodomeria. This research is situated at the intersection of military history and cultural history while adopting methods inspired by the spatial turn. The dissertation will not only serve as an example of how methods can be adopted in historical research but also contribute to the understanding of historical state-building processes, which in turn will provide deeper insight into the mechanisms of power consolidation and the exercise of imperial rule.
In addition to his academical work, Frank Rochow combines his scientific knowledge with grassroots activism as a volunteer. He recently became a board member of the international peace organization Service Civil International.

Răzvan Roşu
Reminiscences of the Habsburg myth in the 21st century: Galicia, Bukovina and Transylvania
Răzvan Roşu was born in 1990 in Satu Mare (Transylvania, Romania). He received his master's degree in Social Anthropology (Cluj, Romania) and South-Eastern European Studies (Jena, Germany) in 2015-2016. He is currently enrolled as a PhD candidate at Babeş University in Cluj Napoca (Romania). He has carried out anthropological research, mostly in Transylvania, with case studies involving the Romanian, Hungarian and German populations. His anthropological interests encompass traditional communities, mountain regions, identity issues, dialectology, ethnomusicology, etc. He is also a singer and player of traditional music, with a repertoire from Motzi Land (Ţara Moţilor).
In his dissertation he analyses reminiscences of the Habsburg myth that can still be identified in some eastern provinces of the former empire (Galicia, Bukovina and Transylvania) in the 21st century. Most of these mythical images refer to Emperor Franz Joseph due to his sixty-eight-year-long reign and because of the fact that he personified the imperial idea. The kind of anthropological research necessary for this dissertation also involves the study of the complex connections between the local identities, gender, personalities and socio-cultural positions of the interviewed persons/ groups.

Diána Vonnák
Heritage, memory politics and public space in Lviv
Diána Vonnák is PhD candidate at the Max Planck Institute for Social Anthropology in Halle/ Germany. Her interests are centered around ethnographic approaches to organisations, expertise and policy making, knowledge production by various groups involved in such processes and questions concerning public space, access and urban environments. She has a long-standing interest in ethical dilemmas that arise in professional contexts, how people involved in cultural fields articulate their responsibilities as individuals, citizens, academics, practitioners etc.
Her doctoral research project focuses on the religious heritage and cultural politics of L'viv, focusing on repurposed religious buildings, which currently function as galleries, museums, memorial sites. Her project uses the buildings as starting points of analysis and expands to situate them in the wider picture of urban planning, which continuously shapes and alters the place these sites occupy in the broader urban fabric. She aims to trace how religious, state and civic actors negotiate conflicting visions of heritage, public space and city identity, and the role ideas of expertise and institutional belonging play in these interactions. The two key sites of her research are the Museum of the History of Religion and Culture (former Museum of Religion and Atheism, located in a former Dominican monastery building) and the Golden Rose Synagogue (currently under construction as a memorial site the Space of Synagogues).
Diána holds an MA in social anthropology from Durham University (UK). Previously she had visiting affiliation at the Central European University (HU) and was a member of the Erasmus College for Advanced Studies (HU). Currently she is a guest researcher at the Center for the Urban History of East-Central Europe in L'viv, carrying out a year-long field research in the city.
Doktoratskolleg Galizien
Campus der Universität Wien

Spitalgasse 2, Hof 1.11
A-1090 Wien